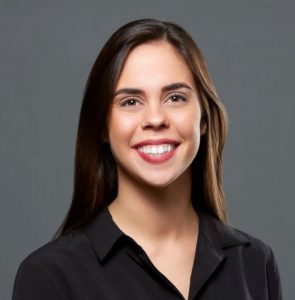 ---
On June 22, 2018, on the last day of the STLHE conference in Sherbrooke, QC, the TAGSA award for outstanding conference session led by a graduate student was given to Michelle Ogrodnik for her "My research in 300 seconds" session, titled "The era of screens, sitting, and studying: Harnessing the benefits of exercise to promote learning in higher education."
Michelle just completed her MSc this summer at McMaster University and will start PhD Level I in the fall. She will continue to work with McMaster's NeuroFit Lab and Western's WEBB Lab, where their program of research takes an interdisciplinary approach, combining fields of Psychology, Neuroscience and Behaviour, Kinesiology, and Education. Specifically, Michelle will continue exploring the relation between exercise and learning. She's interested in understanding ways that optimize teaching to improve student satisfaction and learning outcomes. Additionally, Michelle works as a Student Educational Developer at McMaster's MacPherson Institute for Innovation and Excellence in Teaching and Learning where she has an opportunity to further explore her passions of teaching and knowledge translation.
We recently asked Michelle a series of questions for this blog post to help us get to know her better.
Question 1: What is the most important aspect of the research you presented at STLHE that you would like to share?
With all the hustle and bustle of today's society, we're under increasing societal pressure to spend more time studying or working…leaving less time for exercise. Exercise isn't just good for our bodies—it's also important for our brains. Participating in exercise may improve your executive functioning, which is the cognitive functions responsible for our goal oriented planned behaviour, including learning. I want to share with students and instructors that it's okay to take some time in their day to be physically active in whatever way works best for their body. Taking the time to exercise may benefit their physical health, mental health, AND the learning process.
Question 2: What kind of support have you received for this research project?
I'm mentored by some amazing researchers, particularly some incredible women in science. My current supervisors, Dr. Jennifer Heisz (Department of Kinesiology, McMaster University) and Dr. Barbara Fenesi (Department of Education, University of Western Ontario) have been instrumental in this program of research. I'm incredibly thankful. We've also had support from McMaster's MacPherson Institute for Leadership, Innovation and Excellence in Teaching as well as SSHRC, which we are grateful for.
Question 3: How did you first get involved in the Scholarship of Teaching and Learning (SoTL)?
In undergrad, I specialized from Life Sciences into McMaster's Psychology, Neuroscience & Behaviour program because I fell in love with what I was learning during my Introductory Psychology courses. The instructor, Dr. Joe Kim, encouraged me to pursue a position in his Applied Cognition in Education lab where I first learned about pedagogy. From there I was connected into the world of SoTL and I've been hooked ever since! I'm thankful to get the opportunity to pursue these interests both within my own research and through working as a student partner at the MacPherson Institute.
Question 4: What did you learn from the STLHE conference?
On top of the interesting research, as this was my first time at STLHE, my biggest take away is the sense of community with this conference. I had the pleasure of chatting with some remarkable researchers, and everyone was kind and approachable. There's a real sense of passion among the STLHE community.
Question 5: Finally, what advice do you have for other graduate students interested in the scholarship of teaching and learning?
If you're interested go for it—because your perspectives, experiences, and questions matter.