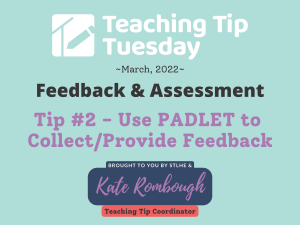 What is Padlet?
Padlet is a powerful collaboration tool used by many educators across Ontario. Padlet is something people can use to make and share content with others. Somewhere between a doc and a full-fledged website builder, Padlet empowers everyone to make the content they want, whether it's a quick bulletin board, a blog, or a portfolio, existing as a large virtual workspace. Padlets can be set up for visitors to add content without requiring a login account.
Padlet content can be created via a web browser, browser extensions, plus apps for iOS, Android, and Kindle devices.
Why Should I Use Padlet?
Easy and Intuitive – you won't find an simpler way to publish original content on the internet, period.
Inclusive – we welcome people of all ages, skill levels, and abilities to use Padlet.
Collaborative – Invite others to work with you on shared projects, assignments, and activities.
Flexible – Add any file type you wish, organize however you want, and make it as public or as private as your heart desires.
Portable – iOS, Android, and Kindle apps available.
Beautiful – Hit the design sweet spot with just enough options that you can add your personal touch, but won't be overwhelmed by customization menus.
Private and secure – Make your padlets viewable only to a select group of people. We transfer data via SSL, go through regular security and vulnerability testing, and encrypt all pages.
Supportive – This account (Support) doesn't just tell you how to use our software, it shows you. And if you prefer to interact with people, you can email us at hello@padlet.com.
Reactive – You can enable reactions like voting, liking, starring, and grading for posts which provides another layer of interaction and promotes the giving and receiving of feedback.
Where can I find more about using Padlet to collect/provide Feedback?
Demo of Padlet
I use Padlet all the time in my teaching and course design. It is an amazing application that makes collaborating fun and engaging for your students/learners and for you! The best part is that you can start using it right away with no training required. Check out these videos for demonstrations of educators using Padlet.
…See you next week for a new tip!
Attribution Statement: This resource was adapted from Padlet | Ontario Extend Toolkit. (2022). Ecampusontario.ca. https://toolkit.ecampusontario.ca/tool/padlet/ which is licensed under CC-BY-NC-SA 4.0