Back to TAGSA
Walking the Path of Technical Teaching Assistants?
The Bob Gaglardi School of Business and Economics has created two niche programs, namelyMaster in Environmental Economics & Management and a Master of Science in Environmental Economics & Management. These programs have garnered significant interest from students nationwide due to their distinctiveness. The programs are being delivered using a hybrid approach to accommodate the diverse student body, delivering classes synchronously to both in-person and virtual students. As Graduate Teaching Assistants: Technical Support, the three of us play a pivotal role in supporting and enhancing the program experience for all students involved.
The Graduate Teaching Assistant: Technical Support role sets itself apart from traditional Teaching Assistant positions. Unlike other Teaching Assistant roles, the primary focus of a Graduate Teaching Assistant: Technical Support is to provide specialized assistance to faculty members in technology setup, problem-solving, and facilitating interactive activities for virtual students. Our experience in these roles has been immensely fulfilling and rewarding as we have had the opportunity to support both students and professors throughout their respective courses.We firmly believe that every small contribution towards making the virtual learning experience wholesome counts as a positive step towards helping students derive maximum benefits from their lectures.
Engaging in virtual lectures and maintaining active participation can be quite challenging for remote students. Therefore, we wanted to ensure that virtual students had access to all the learning materials, course outlines, and course schedules for accomplishing their learning objectives. Additionally, we made it a priority to arrive early for each synchronous class to prepare the classroom technology, initiate Zoom, pre-set a camera for remote students' optimal visibility of the professor, and conduct audio checks to ensure clear audio transmission. Moreover, during the initial week of classes, we facilitated icebreaker activities to foster interaction and mutual familiarity between in-person and remote students.
As the semester progressed, the three of us grew increasingly comfortable and proficient in our Technical Teaching Assistant roles. To foster connections between virtual and in-person learners, the professor facilitated group discussions that involved all virtual students. This required us to find effective ways to activate the pods (a screen used to display the faces of online students to the professor and enable two-way communication), microphone and speakers, ensuring seamless audio communication between in-class and virtual students. Given that this was our first experience with such tasks, we took extra care to ensure proper setup, eliminating any potential echo sounds in the classroom. Additionally, we were responsible for maintaining uninterrupted audio and video connectivity, including the instructor's camera and the cameras in the classroom.
In addition, it was our role to foster a sense of belonging among remote learners within the learning community. We utilized collaborative digital tools such as Whiteboard and Pods to facilitate small group discussions and presentations to achieve this. This approach aimed to create an inclusive and interactive environment for all students, regardless of their physical location.
Moreover, the availability of class recordings holds immense value for both virtual and in-person students. As part of our responsibilities, we diligently recorded classroom meetings using Zoom and uploaded them to the course site, enriching the learning experience for all students. Moreover, we made certain that remote students had ample opportunity to actively participate, contribute to class discussions, and collaborate with their peers in the classroom setting.
Furthermore, we strongly emphasized providing comprehensive support to students throughout their learning journey. We took proactive measures by checking in with them, understanding their individual needs, and ensuring they had access to the necessary technology. We fostered a safe and inclusive environment where students felt comfortable asking questions and offering feedback. Additionally, we maintained regular communication through mid-semester emailcheck-ins to assess their satisfaction with the current approach and offer opportunities for adjustments if desired.
By providing technical teaching support to the professors, we also contributed to the educational development of virtual students. We believe that the prospect of virtual students joining a classroom filled with intellectual minds is thrilling, as it provides opportunities for engaging in meaningful conversations and tailoring the classroom experience to accommodate everyone's needs. Furthermore, virtual students bring diverse backgrounds, experiences, and perspectives to the learning environment. This enriches class discussions, fosters teamwork, promotes a sense of community, and creates a more inclusive, diverse, and dynamic learning environment that prepares students for the realities of an interconnected world.
Being a Graduate Teaching Assistant: Technical Support is not without its challenges. Our main objective is to provide a smooth and uninterrupted learning experience for virtual students, which requires us to promptly troubleshoot any technical issues that may arise. This role demands substantial patience, understanding, empathy, and exceptional interpersonal skills to effectively address student needs and uphold uninterrupted educational sessions.
The role of the Technical Teaching Assistant extends beyond their primary role. In addition, we also assist the professors in invigilating exams for virtual students by implementing a setup similar to online proctoring software. This allows virtual students to comfortably write their exams virtually, eliminating the need for additional fees associated with external online proctoring services. Moreover, it helps alleviate the stress caused by unfamiliar proctors, as the students are already familiar with the Technical Teaching Assistants serving in this capacity.
Over the course of four semesters, our experience with exam proctoring has garnered overwhelmingly positive feedback from virtual students. They have expressed appreciation for the familiarity, stress reduction, and exam setup that closely resembles writing an exam in a traditional exam hall with the presence of a professor. As Technical Teaching Assistants, we have made it a priority to ensure that virtual students receive the same level of support and assistance from a professor during exams, including the availability of clarifications if needed.
In conclusion, the role of Technical Teaching Assistants serves a crucial academic purpose while offering significant personal and professional benefits. As Technical Teaching Assistants, we have gained a deeper understanding of different learning styles, broadened our perspectives, and forged valuable connections within the academic community. Engaging with virtual students and bridging the gap in the classroom environment has sharpened our communication, problem-solving, and technical proficiency. This hands-on experience has enhanced our adaptability, patience, and ability to troubleshoot in real time. Ultimately, serving as Technical Teaching Assistants has played a vital role in fostering our skill development and preparing us to tackle future challenges in the ever-evolving educational landscape.
---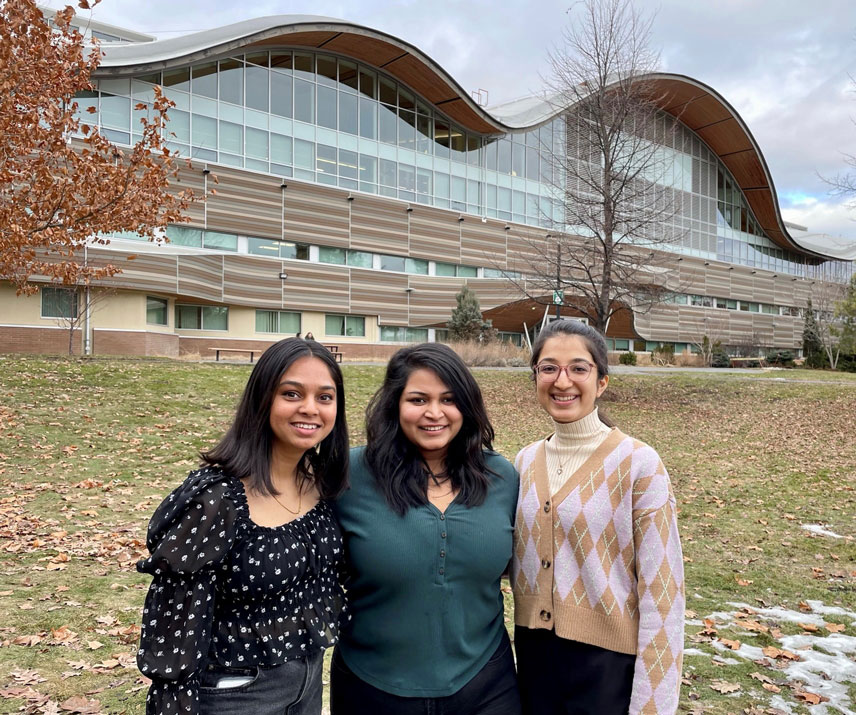 Aishwarya Mekal
Aishwarya Mekal (she/her) is a dedicated MBA student at Thompson Rivers University, where she is honing her business acumen and leadership skills. Alongside her academic journey, Aishwarya excels as an IT Project Manager with a local IT company in Kamloops. Her role involves steering projects to success by orchestrating technology solutions and fostering efficient collaborations. With a passion for innovation and an aptitude for management, Aishwarya embodies the essence of a forward-thinking leader. She continually seeks to bridge the realms of business and technology in her pursuits, striving to create a meaningful impact through her work. Connect via LinkedIn at aishwaryamekal
Thishara Perera
Thishara is a dynamic professional making her mark in the world of business operations, where her insights and acumen have led to streamlined processes and enhanced efficiency. Simultaneously, she's nurturing her entrepreneurial spirit by managing her own successful clothing business in her motherland, Sri Lanka. Beyond her career pursuits, Thishara's compassionate nature shines through in her commitment to community service. Her vision for the future includes working closely with elders and children, enriching their lives through meaningful interactions and support. A recent graduate with a Master's in Business Administration, her dedication was further exemplified as a Graduate Teaching Assistant, where she played a pivotal role in facilitating a seamless transition to hybrid teaching modes, ensuring an optimal learning experience for her students. Connect via LinkedIn at thisharaperera
Harmilan Kaur Dang
Harmilan Kaur Dang is an adept management professional dedicated to nurturing positive relationships and delivering exceptional client experiences. Holding a Master of Business Administration from Thompson Rivers University, Harmilan's expertise encompasses interpersonal communication, leadership, problem-solving, stakeholder management, and data analytics. A passionate advocate for Diversity, Equity, and Inclusion (DEI), she has spearheaded impactful initiatives, including the Anti-Racism Response Workshop, which trained 50 students through an active witnessing model. Harmilan's commitment to equity improvement is further exemplified by her role as a Graduate Equity Research Assistant, where she curates inclusive content by collaborating with stakeholders and gathering compelling stories. Furthermore, Harmilan's dedication shines through her role as a Graduate Teaching Assistant, ensuring a seamless transition into hybrid teaching modes for students. Beyond her professional pursuits, she finds solace in hiking and yoga. For collaborations and insights, connect with her via LinkedIn at harmilankaur