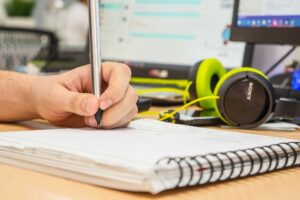 STLHE and CJSoTL are delighted to announce Jean Choi, PhD as a new Co-Editor of CJSoTL, joining Brett McCollum (Editor-in-Chief) and Ken Meadows (Managing Editor) in the CJSoTL leadership team.
Jean Choi holds a doctorate in experimental psychology from York University and is Dean of Teaching, Learning and Program Quality at Durham College. She is the chair of the College Degree Operating Group and co-chair of the Learning Outcomes and Experimental Learning Symposium.
Choi will be bringing a wealth of experience to the role of Co-Editor as a former faculty member, administrator and Senior Co-Editor of the College Quarterly, with more than 20 years of full-time administrative and teaching experience in the college and university sectors.
Choi is currently working with her team to develop a Scholarship of Teaching and Learning (SoTL) framework and supporting processes for Durham College. The framework will provide faculty with a formalized process to systematically investigate how new and innovative instructional practices and approaches impact student learning and engagement. Faculty will be encouraged to share their innovations and research findings within the institution as well as externally.
Choi's work within the college sector on institution-wide initiatives provide a unique perspective while supporting faculty, academic schools, and students. She will be bringing this knowledge and passion for academic and administrative leadership to her role as a CJSoTL Co-Editor.